Biography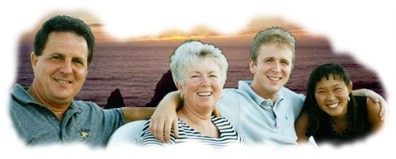 Jerry, Yvonne, Son Jeff & Daughter Kim - 1997
My love and interest in decorative painting began in 1972 when a dear friend introduced me to classes at the home of Milly Smith in Portland. Around that time, Milly's books were coming onto the scene and the examples of her works and others in the industry were a treat for my eyes. I spent the next several years just enjoying this hobby and began teaching later in the 70's. My own designs came as inspirations in the early 90's and first were developed as pattern packets. In 1995, my first of 10 books were published and with that began an era of traveling to teach seminars across the US and Canada.
My designs reflect the things that I know- the rural cottage and farm scenes of Farmington (where I grew up) and Pumpkin Ridge (the area we have lived for 40 years and raised our kids). Both communities are outside Hillsboro, Oregon were my husband, Jerry, and I went to school and met over 47 years ago.
The santas that I paint are cheerful, robust fellows. That is the type I grew up with in the 50's-the jolly 'Coca-Cola' santa rather than the stern, Victorian ones. Even my pumpkins have smiles, rather than scary faces.
It has been a great honor to be invited to teach the many wonderful painters across the country many who 've become friends. What a blessing to be involved with an industry filled with such good people! I often tell people when trying to describe what I do, "I'm like a fishing guide. The fishermen already know how to fish. They hire the guide to take them to a new area/adventure they may not find themselves." When I teach a seminar, I'm just sharing how I painted my design as the student paints their own piece and we're all enjoying the weekend away!
In retirement, I will design a new project once in awhile, especially for the Portland Raindrops convention held every other year. My website will remain a little while longer.

We were blessed to have had the energy to host granddaughter Jamie & Nick's wedding in our barn in 2016. It was a labor of love and Jerry & I also celebrated our 50th anniversary later that night by dancing to our favorite song "Summer Place"! The rain stayed away for the day, which was a miracle for Oregon in May! Our barn, still used by the Dexter cattle, provided a wonderfully rustic atmosphere with chandelier hanging within an old wagon wheel, tractors and hay bales in the corrals as background and props. Our wedding celebration 50 years earlier had also utilized my family's farm building which had been part of our pickle factory.

While compiling these photos surrounding our property, I am reminded why I find it hard to leave home. I will always treasure the time I was able to travel and meet painters all over the country.